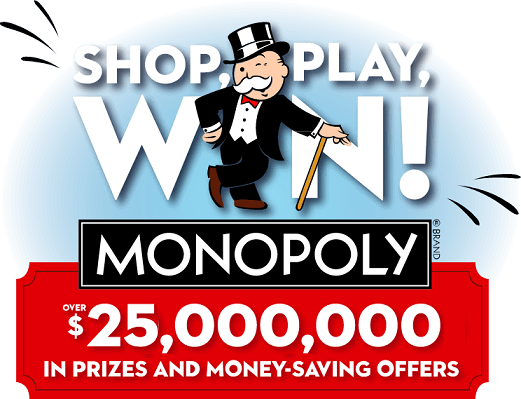 Albertson's / Safeway / Vons Monopoly 2020 Employee Rare Game Pieces
Shop Play Win / Albertson's / Safeway / Vons Monopoly (and the same game at other supermarkets around the US) began on February 5, 2020. It runs through May 5, 2020.
For the regular game info, click here.
In addition to Albertson's and Safeway, this Monopoly game also exits at Pavilions, Carrs, Vons, Randalls, Eagle, Pak .n Save, Tom Thumb, JewelOsco, ACME Markets, Shaw's/Star Market, United Supermarkets, Market Street, Amigos, United Express, Albertsons Market, Lucky (Southern California only) and Super Saver. Listed below are the prizes, the odds of finding the rare game piece (with 1 ticket), and the number of total game pieces you need to obtain that prize.
Note that for the four largest prizes awarded, you also need a semi-rare game piece, of which the odds of obtaining are 1 in 5000. If you get the semi-rare piece, don't feel special, as there are many thousands of them out there. However, if you get the rare piece, you should be able to buy the semi-rare piece from someone on the internet. Do not overpay for the semi-rare game piece! Some people may try to trick you into splitting the prize. Don't do that. You should be able to get one for $100 or so, as there are THOUSANDS of them, and they will all be worthless except for the very few matched with a rare piece.
You may take a look at my Vegas Casino Talk forum, where I make a yearly Albertson's Monopoly thread. Feel free to post your trade requests on that forum. In order to post there, you need to register an account and verify e-mail. The "secret word" to register is "inherit" (wihout the quotes!)
Did this website or my trading website help you win a prize? All of my sites run ad-free and lose money each month! Donations are always appreciated! Click one of the links below if you wish to donate.





Bitcoin: 14EvggfGQgDGQJSBdERzokdE1UE85VMWFx
Click here to contact me. Note that I do NOT have pieces to trade myself! Also please do NOT ask me questions about your pieces.
Last updated March 7, 2020

The folowing pieces are the ones you're looking for -- the rest are common and easy to obtain: Z801E, Z804B, Y809A, X811C, W816D, W817C, V821C, U827A, T829B, T832E, S835B, R839B, Q842A, Q845D, P849C, N852D
Prize
#
of Prizes
Odds of finding
Rare Piece with
1 Game Ticket
Number of
Game Pieces
Rare
Game Piece
Semi-Rare
Game Piece
(Odds 5,000:1)
$100,000 Cash or Boat
?
?
6
Q842A
Q845D
$40,000 Vehicle of Choice
?
?
6
T829B
T832E
$25,000 Home Theater
?
?
6
W816D
W817C
$10,000 Cash
?
?
5
Z801E
Z804B
$5,000 Cash
?
?
4
N852D
None
$1,000 Cash
?
?
4
P849C
None
$500 Portable Grill & Groceries
?
?
4
R839B
None
$250 Grocery Gift Card
?
?
4
S835B
None
$100 Grocery Gift Card
?
?
4
U827A
None
$50 Grocery Gift Card
?
?
4
V821C
None
$20 Grocery Gift Card
?
?
4
X811C
None
$5 Cash
?
?
4
Y809A
None
Instant $100,000 Cash or Boat
1
?
1
Instant
None
Instant $40,000 New Car
3
?
1
Instant
None
Instant $25,000 Home Theater
4
?
1
Instant
None
Instant $10,000 Cash
8
?
1
Instant
None
Instant $5,000 Cash
10
?
1
Instant
None
Instant $1,000 Cash
40
?
1
Instant
None
Instant $100 Grocery Gift Card
100
?
1
Instant
None
Instant Free Product Winner
?
?
1
Instant
None
2 Free Game Tickets
?
?
1
Instant
None